| | |
| --- | --- |
| S2C's FPGA-Based SoC Prototyping System Supports PCIe 3.0 Cores | |
Max Maxfield 8/18/2014 05:55 PM EDT
When it comes to developing new ASIC, ASSP, and SoC designs, FPGA-based prototyping systems offer a number of advantages over other prototyping solutions. These advantages include extremely high "hardware-level" speed at relatively low cost.
S2C offers a variety of FPGAS-based prototyping platforms, including the V7 TAI Logic Module, which boasts four Xilinx Vitex-7 2000T FPGAs that can accommodate the equivalent of 80 million ASIC gates.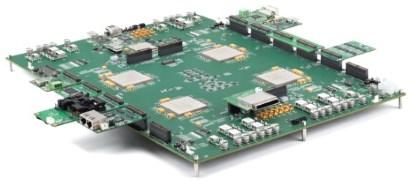 The V7 TAI Logic Module has four onboard DDR3 SO-DIMM sockets that can support up to 32 GB of DDR3 memory. The QuadE version offers 48 channels of high-speed gigabit transceivers that can run up to 10 Gbit/s and support designs using high-speed interfaces such as PCIe, SATA, and XAUI.
S2C has announced that Northwest Logic's PCI Express (PCIe) 3.0 solution -- including the Expresso 3.0 Core (PCI Express 3.0 Controller Core) and family of DMA Cores -- has been validated and certified for use with S2C's ASIC prototyping platforms. This validation and certification was performed with eight lanes running at 8 Gbit/s SerDes rates.
With some FPGA-based hardware prototypes, third-party interface subsystems like PCIe are delivered only as RTL, which has to be synthesized along with the rest of the design and ends up consuming a large proportion of the prototyping platform's FPGA resources. To get around this problem, S2C has developed a Prototype Ready suite of IP cores.
In the case of Prototype Ready IP cores, in addition to the RTL that will form part of the final ASIC/SoC design, an accessory module containing a hardware implementation of the core can be plugged on top of the TAI Logic Module as a daughter card. (Multiple accessory modules can be plugged into a TAI Logic Module.) This is the way Northwest Logic's PCIe 3.0 solution is presented -- as a Prototype Ready IP core module for use with the TAI Logic Module.
Please visit the S2C or Northwest Logic websites for more information.
— Max Maxfield, Editor of All Things Fun & Interesting