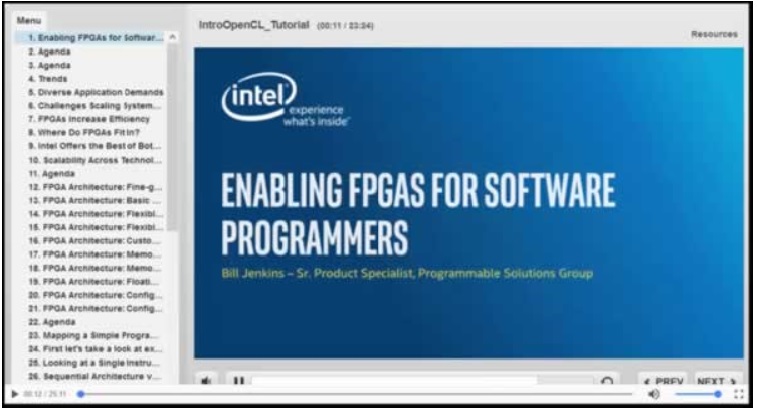 Screenshot from video:
https://www.altera.com/content/dam/altera-www/global/en_US/video/opencl-overview-tutorial.mp4
In fact, OpenCL could be one of the key differentiators between the Intel/Altera combination and the ARM/Xilinx ecosystem. There are OpenCL ports on lots of platforms since it is an open standard, but Intel has gone all in on optimization for OpenCL across the board including its FPGA offering. Combining the benefits of an OpenCL development flow with the power of an Altera Arria 10 FPGA brings a bunch of algorithm acceleration possibilities.
S2C has solved the problem of how to get many FPGAs interconnected in a single prototyping platform. With their new Arria 10 Prodigy FPGA Prototyping Logic Module, users can have anywhere from a single Arria 10 1150GX FPGA to a scaled-up system with 16 FPGAs in the Cloud Cube chassis. As the name implies, a single Arria 10 logic module has 1150K logic elements along with a full suite of programmable I/O including 48 transceivers running at up to 16Gbps, and 576 high performance I/Os. It's an incredible leap, not only for those interested in working in the Intel/Altera environment, but for those working on OpenCL.